MANDATORY DEER CHECK IN AT THE HUNT CONTROL OFFICE 17-18 NOV AND 24-25 NOV
ALL DEER HARVESTED MUST BE BROUGHT TO THE HUNT CONTROL OFFICE FOR DATA COLLECTION ON THE ABOVE DATES.
Required Deer Checkout Times for September through November
ATTENTION TIER 3 GUN DEER HUNTERS
The lottery for the first weekend(17-18 Nov) of the Quota Gun Deer hunt application period ended 15 September. Hunters that are not drawn for this lottery, and anyone else that wishes to, may still hunt (space available basis as always) the second and third weekends (24-25 Nov and 8-9 Dec) by simply purchasing the Tier 3 General Gun Deer Permit that will become available 15 October. Please refer to the 2018 Fort Knox Quota Gun Deer Guidelines under the guidelines tab above. Hunters are reminded that they must provide by email, fax or in person, their Weapon Permit prior to being able to purchase gun deer hunting permits. Please see the information below highlighted in yellow.
​THERE ARE NO LOTTERY APPLICATIONS FOR QUOTA GUN DEER WEEKENDS (17-18 NOV, 24-25 NOV AND 8-9 DEC) FOR TIER 1 AND 2 HUNTERS. RESERVATIONS CAN BE MADE BEGINNING AT 0800 FOR TIER 1 AND 0900 FOR TIER 2 ON THE FRIDAY PRIOR FOR ANY AVAILABLE AREA. PROOF OF FIREARMS REGISTRATION RESULTING IN A WEAPON PERMIT SHOWING DATES VALID TO AND FROM MUST BE PROVIDED TO THE HUNT CONTROL OFFICE AND ACCOUNT VALIDATED PRIOR TO PURCHASE OF A PERMIT UTILIZING A FIREARM. PROOF CAN BE EMAILED, FAXED OR IN PERSON More information on how below here starting with the yellow text.
RETRIEVING AN ANIMAL AFTER THE REQUIRED CHECKOUT TIME IS PERMITTED BY FOLLOWING THE BELOW PROCEDURE. THIS WILL ALLOW 2 ADDITIONAL HOURS PAST HUNTING CHECK OUT TIME. ABSOLUTELY NO EXCEPTIONS TO CHECKOUT BY THE INDICATED CHECK OUT TIME.
PLEASE REMEMBER: IT IS ALWAYS BEST TO "BACK OUT IF THERE IS ANY DOUBT" ABOUT SHOT PLACEMENT AND COME BACK THE NEXT DAY TO TRACK AN ANIMAL. THERE IS A MUCH GREATER CHANCE OF RECOVERING A WOUNDED ANIMAL IF YOU FOLLOW THIS RULE.
1. LOG INTO YOUR ISPORTSMAN ACCOUNT AND CLICK "ACQUIRE PERMITS".
2. FIND THE "RETRIEVING BIG GAME AFTER HOURS PERMIT"(FREE). AND CLICK ADD TO CART, SELECT SAVE, THEN CHECK OUT AND CONFIRM.
3. THE PERMIT SHOULD THEN BE VISIBLE IN YOUR LIST OF PERMITS AT THE BOTTOM OF YOUR START PAGE. IT IS VALID FOR 1 DAY AND YOU CAN ONLY ACQUIRE 4 DURING THE SEASON. PLEASE USE THEM ONLY AS ABSOLUTELY REQUIRED.
4. CHECK OUT OF YOUR DEER HUNTING AREA AS NORMAL.
5. LOG OUT AND LOG BACK INTO ACCOUNT, SELECT CHECKIN/CHECKOUT THEN CHECKIN. YOU WILL NOW BE PERMITTED TO SEE THE "RETRIEVING DEER AFTER CHECKOUT TIME" TAB, SELECT IT AND THEN SELECT YOUR AREA FROM THE LIST AND CONFIRM.
NOTE: YOU CAN ONLY CHECK INTO THIS ACTIVITY FROM 44 MINUTES PRIOR TO SUNSET UNTIL 2 HOURS AFTER SUNSET PREVAILING TIME.
5. PAY CLOSE ATTENTION TO THE INDICATED CHECK OUT TIME. YOU MUST ABSOLUTELY BE CHECKED OUT AND PHYSICALLY OUT OF THE AREA BY THAT TIME, NO EXCEPTIONS. REPORT HARVEST IF THE ANIMAL IS RECOVERED AT CHECKOUT AS NORMAL. ENSURE THAT YOU CONFIRM CHECK OUT OR HARVEST AND CHECK OUT WILL NOT BE ACCOMPLISHED.
6. IF FOR SOME REASON THE ANIMAL CANNOT BE RECOVERD BY THE CHECK OUT TIME AND THE AREA IS CLOSED THE FOLLOWING DAY, OR IT IS TUESDAY, PLEASE COME TO THE HUNT CONTROL AFTER 0700 WEEKDAYS (COME TO THE ENTRY DOOR SOUTH OF THE HUNT CONTROL ENTRANCE), 1200 WEEKENDS, TO DETERMINE IF THE AREA CAN BE ACCESSED TO CONTINUE THE EFFORT TO RETRIEVE THE ANIMAL. IT MAY NOT BE POSSIBLE DUE TO MILITARY TRAINING.
All permit purchases are required to be done thru your account using credit or debit card. Cash and Check are no longer accepted. The Hunt Control Office will be glad to assist customers complete the transaction if assistance is needed.
Hunters 18 and older are required to provide proof of Fort Knox firearms registration to the Hunt Control Office prior to being able to purchase a permit that allows use of a firearm. A benefit of this is that the iSportsman system will notify you thru your account 21 Days prior to expiration of the registration so that you have time to renew without causing issues with access for hunting. This can be accomplished in several ways;
1. Take a photo of your valid Weapon Permit showing name and address as well as valid dates and email to usarmy.knox.imcom-atlantic.mbx.dpw-hunt-control@mail.mil
2. Scan Weapon Permit and fax to 502-624-1868, or scan and email to the above email address.
3. Bring Weapon Permit to the Hunt Control Office during normal business hours and we will update your account.
Once the Weapon Permit is received your account will be updated with the required validation that will allow purchase of hunting permits thru the valid date on the firearms registration. Fishermen do not need a firearms validation.
​Game harvest must be reported in iSportsman when checking out of your Hunting Area. ALSO, you must use the KDFWR's Telecheck System to check-in your Fort Knox deer, turkey and bobcat. Select either Hardin, Meade, or Bullitt County (not a problem if not sure, just select Hardin), then public land, then Fort Knox Military Reservation.
ATTENTION ISPORTSMAN USERS:
IT IS IMPERATIVE THAT ALL PERSONS THAT CHECK IN THRU ISPORTSMAN CHECK OUT OF THEIR AREA BY THE TIME REQUIRED. 15 DAYS SUSPENSION FOR FIRST OFFENSE AND 30 DAYS FOR SECOND WILL BE ENFORCED AND IS NOT APPEALABLE.
​2018 Hunting and Fishing information is available at the "Guidelines" button on the blue bar above.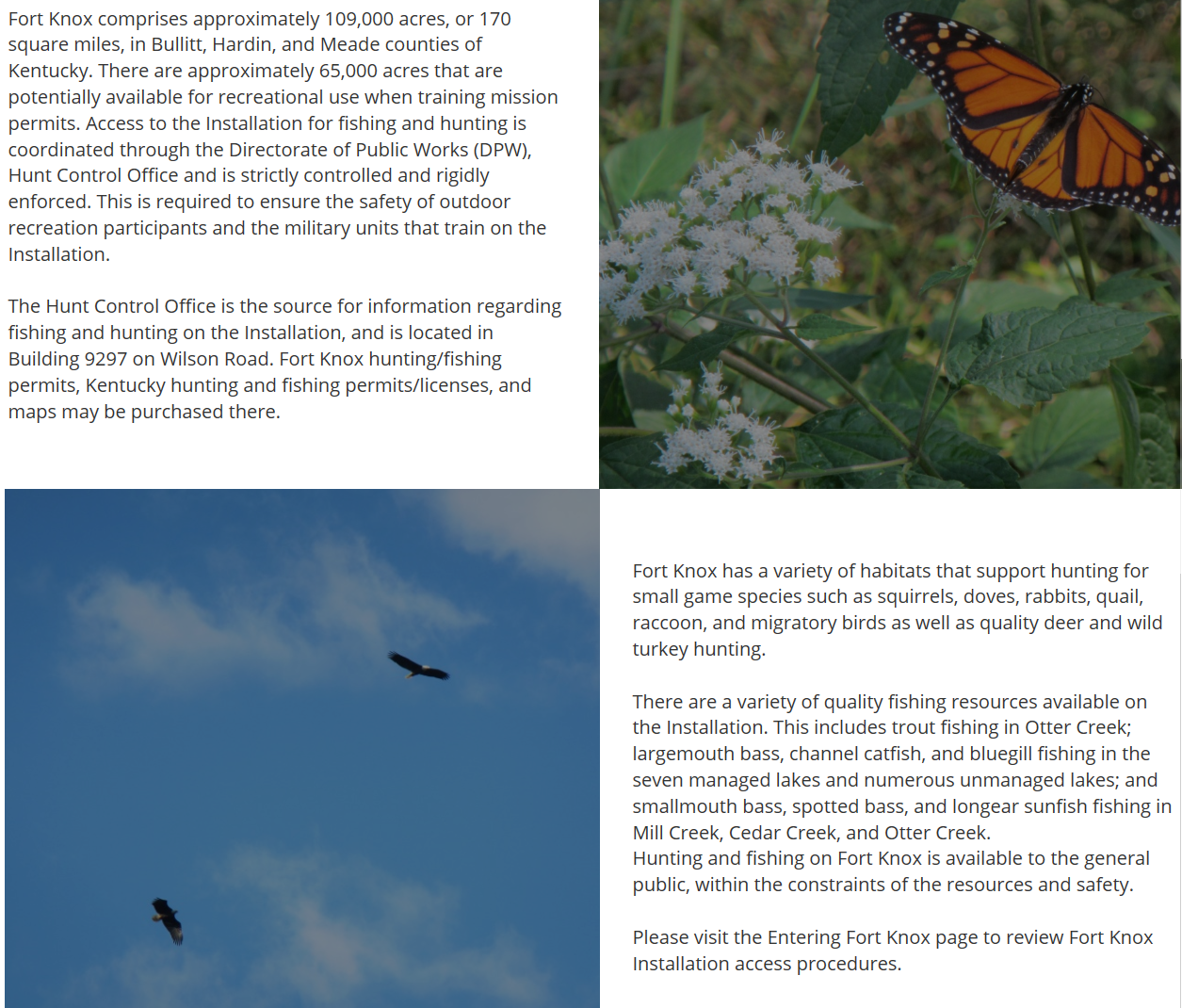 ATTENTION: DO NOT SEND FIREARMS REGISTRATION APPLICATIONS
(FK Form 2759) TO THE BELOW HUNT CONTROL OFFICE EMAIL! Click here Firearms Registration Information, for the correct application procedures. Only valid Weapons permits received from Provost Marshals Office, Fort Knox, Ky at the Chaffee Gate Visitor Center (with dates valid) should be sent to us for account validation.
usarmy.knox.imcom-atlantic.mbx.dpw-hunt-control@mail.mil
OFFICE HOURS EFFECTIVE 11 November
Mondays and Fridays 9:00AM - 7:30PM
​WEDNESDAY-THURSDAY, SATURDAY-SUNDAY 10:30AM- 7:30PM
**CLOSED TUESDAYS**
For Firearms Registration Information, Gate Access Information, and Visitor's Center
call 502-624-7011 or 7019
​Interactive Customer Evaluation (ICE)
​Click here to purchase Kentucky Department of Fish and Wildlife Resources Hunting and Fishing Licenses, Permits, Merchandise, and Elk Lottery Permits.