​ATTENTION TIER 3 ARCHERY DEER HUNTERS
Lotteries are being conducted to draw a specified number of hunters this year for the last 4 weekends of the first archery season. The first lottery application period occured 1 August at 1000 thru 6 August at 0800 for the weekend of 3-4 November and is closed. Applications are currently being accepted for the weekend of 27-28 Oct thru 0800 10 August. Please refer to the guidelines tab on the blue bar above for detailed information on applying for archery hunting on these weekends. Click on guidelines tab and select 2018 Civilian Archery Deer Hunting Application Procedures. Please also refer to the 2018 Fort Knox Archery Deer Hunting Guidelines under the same tab above.
THERE ARE NO LOTTERY APPLICATIONS FOR QUOTA GUN DEER WEEKENDS OR AREAS FOR TIER 1 AND 2 HUNTERS THIS YEAR. RESERVATIONS CAN BE MADE BEGINNING AT 0800 FOR TIER 1 AND 0900 FOR TIER 2 ON THE FRIDAY PRIOR FOR ALL AVAILABLE AREAS. ARCHERY DEER AND TURKEY PERMITS WILL BE AVAILABLE FOR PURCHASE BEGINNING 15 AUGUST. GUN HUNTING PERMITS WILL BE AVAILABLE BEGINNING 15 SEPTEMBER. PROOF OF FIREARMS REGISTRATION MUST BE PROVIDED TO THE HUNT CONTROL OFFICE AND ACCOUNT VALIDATED PRIOR TO PURCHASE OF A PERMIT UTILIZING A FIREARM. PROOF CAN BE EMAILED, FAXED OR IN PERSON.
2018 Fort Knox Fishing/Hunting Permits are now available for the permit year beginning 1 March. Permits that are available at this time are Fishing, Small Game, Combination Small Game/Fishing and Spring Turkey. Deer and Fall Turkey permits for 2018 will become available no earlier than 15 August. All permit purchases are required to be done thru your account using credit or debit card. Cash and Check are no longer accepted. The Hunt Control Office will be glad to assist customers complete the transaction if assistance is needed.
Hunters 18 and older are required to provide proof of Fort Knox firearms registration to the Hunt Control Office prior to being able to purchase a permit that allows use of a firearm. A benefit of this is that the iSportsman system will notify you thru your account 21 Days prior to expiration of the registration so that you have time to renew without causing issues with access for hunting. This can be accomplished in several ways;
1. Take a photo of your valid firearm registration showing name and address as well as valid dates and email to usarmy.knox.imcom-atlantic.mbx.dpw-hunt-control@mail.mil
2. Scan firearms registration and fax to 502-624-1868, or scan and email to the above email address.
3. Bring registration to the Hunt Control Office during normal business hours and we will update your account.
Once the registration is received your account will be updated with the required validation that will allow purchase of hunting permits thru the valid date on the firearms registration. Fishermen do not need a firearms validation.
​Game harvest must be reported in iSportsman when checking out of your Hunting Area. ALSO, you must use the KDFWR's Telecheck System to check-in your Fort Knox deer, turkey and bobcat. Select either Hardin, Meade, or Bullitt County (not a problem if not sure, just select Hardin), then public land, then Fort Knox Military Reservation.
ATTENTION ISPORTSMAN USERS:
IT IS IMPERATIVE THAT ALL PERSONS THAT CHECK IN THRU ISPORTSMAN CHECK OUT OF THEIR AREA BY THE TIME REQUIRED. 15 DAYS SUSPENSION FOR FIRST OFFENSE AND 30 DAYS FOR SECOND WILL BE ENFORCED AND IS NOT APPEALABLE.
​2018 Hunting and Fishing information is available at the "Guidelines" button on the blue bar above.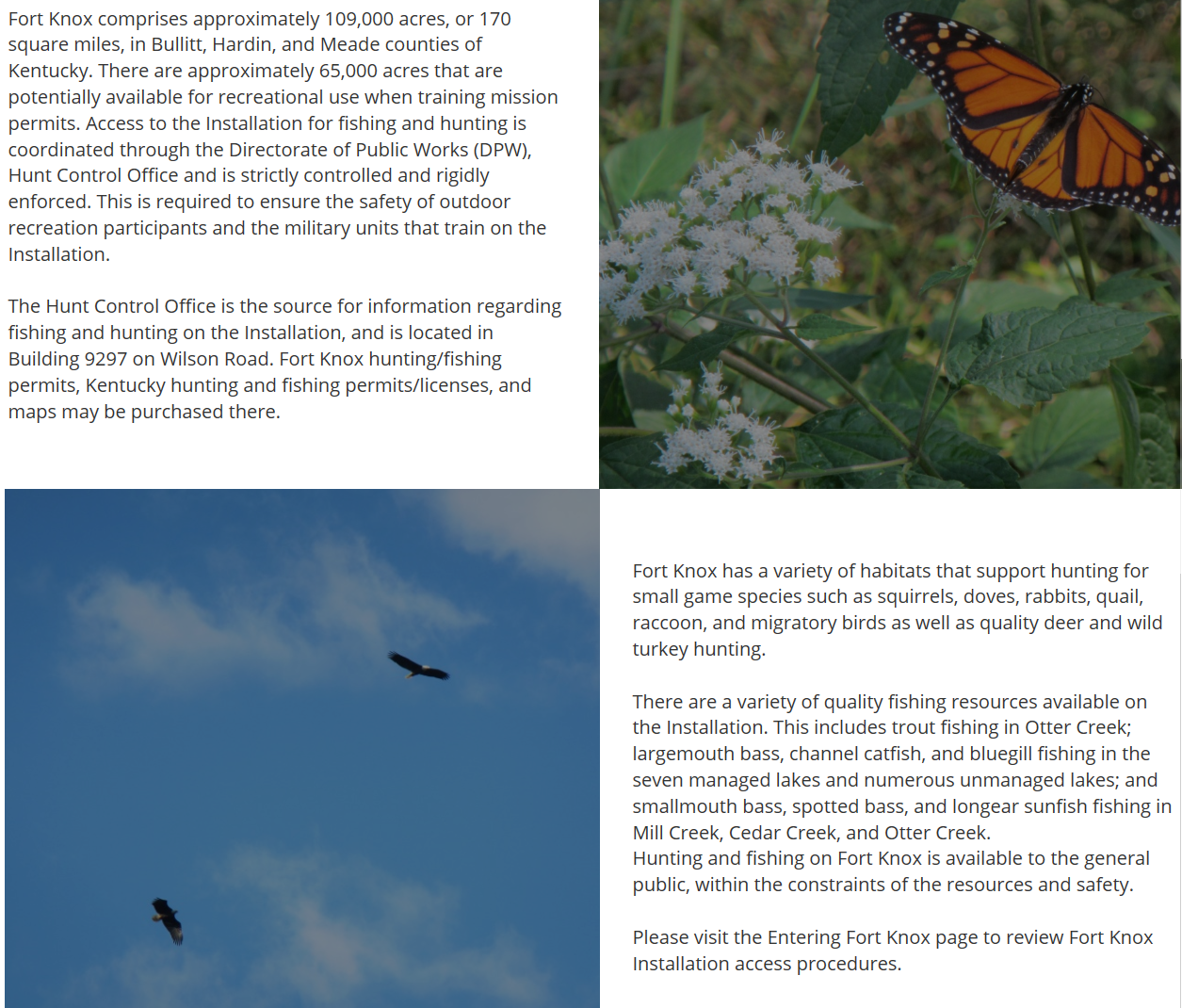 usarmy.knox.imcom-atlantic.mbx.dpw-hunt-control@mail.mil
OFFICE HOURS
Monday-Friday 9:00 AM-6:00 PM
**CLOSED Saturday and Sunday**
For Firearms Registration Information, Gate Access Information, and Visitor's Center
call 502-624-7011 or 7019
​Click here to purchase Kentucky Department of Fish and Wildlife Resources Hunting and Fishing Licenses, Permits, Merchandise, and Elk Lottery Permits.