The Tier 3, 12-13 November archery deer lottery is now open. Applicants must acquire the entry ticket by 8 am on 22 August to be considered in the drawing. Please be sure to follow the Civilian archery deer lottery application procedures located under the guidelines tab above.
Tier 1-2 Fall Turkey and deer permits are now available for purchase. Please be sure to read the applicable hunting guidelines prior to going afield.
The Installation Hunting Area map has been updated!
Reminder! Fall hunting season is approaching, if you need to register or update a firearm registration please do it now! Currently, there is a 7–10 day processing period for firearm registration. You can drop off your completed application form at the Visitor Center at the Chaffee Gate or mail to:
Directorate of Emergency Services
Attn: Weapons Registration Office
481 Gold Vault Rd.
Fort Knox, Kentucky 40121-5182
Phone: 502-624-7011 or 7019
Weapons Permits must be picked up in person at the Visitor Center, you cannot pick up someone else's permit.
The managed lakes have been stocked with channel catfish on 7 July 22.
Please be sure to read, understand and follow the 2022 Ft Knox
Fishing Guidelines.
If you cannot see any permits available in your account, your ID Validation has expired. Please send us an email and we will validate your account.
If gun permits are not available in your account, your Weapon Permit has expired, or we don't have one on file. Please email a photo of your valid Weapon Permit with your personal information covered up, except for your name and the valid dates and we will update your account.
New Quick Reference Hunting and Fishing Guide is listed under the Hunting and Fishing Information tab!
Please see the below on firearms registration to get the required firearms validation added to your account or updated. If you cannot see the fishing permit, your ID validation has likely expired. Please see the New Users highlight below to get this validated.
ALL NEW USERS MUST EMAIL THE HUNT CONTROL EMAIL AT usarmy.knox.id-training.mbx.dpw-hunt-control@army.mil AND REQUEST ID VALIDATION AFTER CREATING AN ACCOUNT. PERMITS ARE NOT AVAILABLE UNTIL ACCOUNT IS VALIDATED.
ALL EXISTING ACCOUNT HOLDERS CAN REVIEW, UPDATE, AND REQUEST VALIDATION BY EMAIL IF CHANGES ARE NEEDED. ALSO, IF GUN HUNTING PERMITS ARE NOT AVAILABLE IN YOUR ACCOUNT YOU EITHER HAVE NOT PROVIDED YOUR FT KNOX WEAPONS PERMIT TO THE HUNT CONTROL OR IT HAS EXPIRED. PLEASE SEE FIREARMS REGISTRATION BELOW FOR REQUIREMENTS.
FIREARMS REGISTRATION: PROOF OF FIREARMS REGISTRATION FOR HUNTERS 18 AND OVER RESULTING IN A WEAPON PERMIT, WITH VALID TO AND FROM DATES, MUST BE PROVIDED TO THE HUNT CONTROL OFFICE AND ACCOUNT VALIDATED PRIOR TO PURCHASE OF A PERMIT UTILIZING A FIREARM. This can be accomplished by one of the following:
1. Take a photo of your Weapon Permit showing valid to and from dates and name (top section of the blue-gray page). DO NOT SEND THE PERSONAL INFORMATION SECTION. FOLD IT OVER OR COVER IT UP. Send this in an email with the persons isportsman USERNAME in the title to usarmy.knox.id-training.mbx.dpw-hunt-control@army.mil
2. Scan Weapon Permit and email to the above email address and include the persons iSportsman USERNAME in the title. DO NOT SEND THE PERSONAL INFORMATION SECTION. FOLD IT OVER OR COVER IT UP.
Once your account is updated with the required firearms validation you will then be able to purchase firearms hunting permits through the valid date on the firearms registration. iSportsman will notify you through your account 21 days prior to expiration of the registration so you will have time to renew without causing issues with access for hunting. Fishermen and archery hunters do not need a firearms validation.
Game harvest must be reported in iSportsman when checking out of your Hunting Area. ALSO, you must use the KDFWR's Telecheck System to check-in your Fort Knox deer, turkey and bobcat. Select either Hardin, Meade, or Bullitt County (not a problem if not sure, just select Hardin), then public land, then Fort Knox Military Reservation.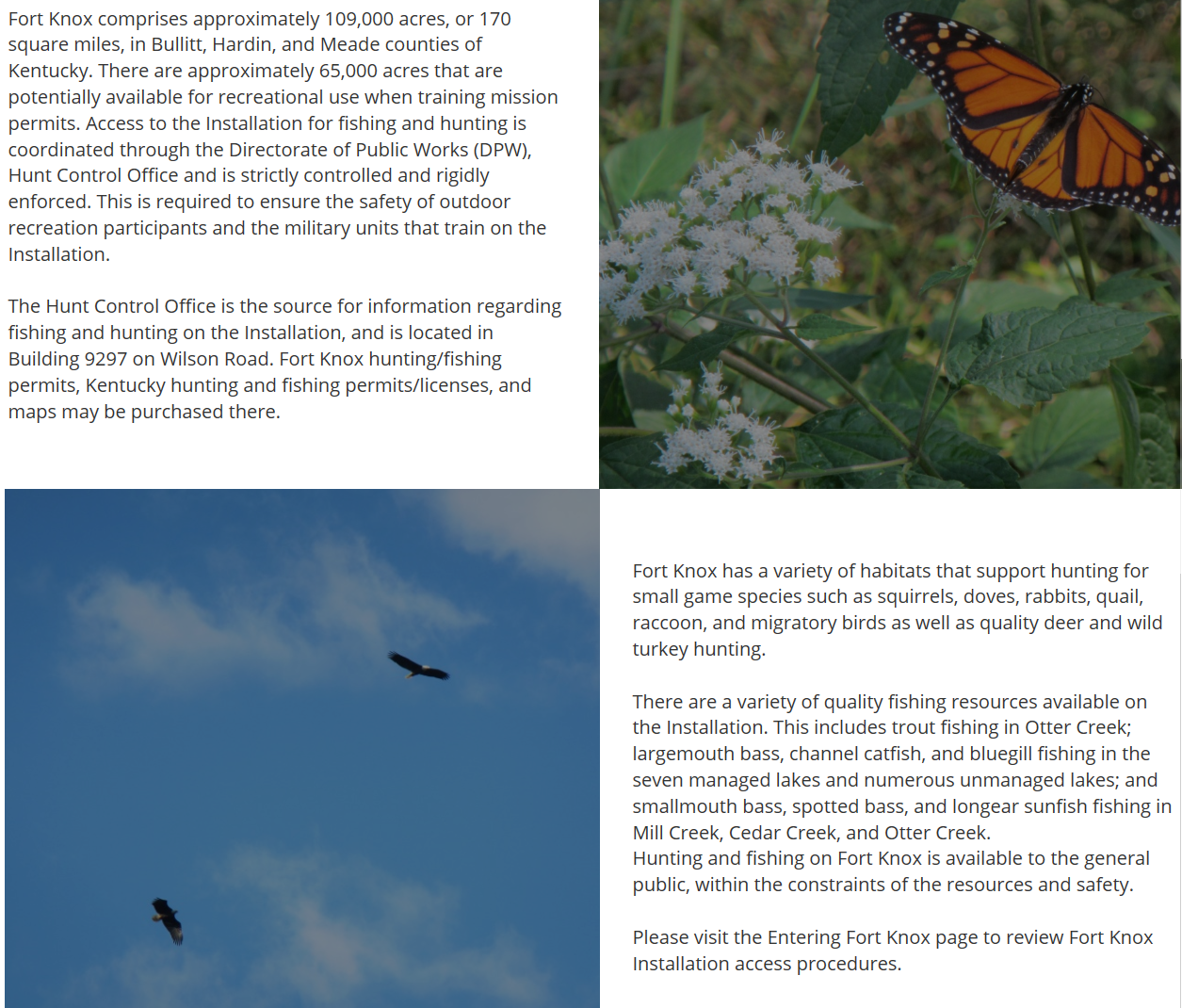 Click HERE to access the official Fort Knox Fish and Wildlife Facebook Page!

ATTENTION: DO NOT SEND FIREARMS REGISTRATION APPLICATIONS
(FK Form 2759) TO THE HUNT CONTROL OFFICE EMAIL, THEY MUST BE SUBMITTED TO THE CHAFFEE GATE VISITOR CENTER!
Click here for Firearms Registration Information, and correct application procedures. Only valid Weapon Permits received from the Provost Marshals Office, Fort Knox, KY at the Chaffee Gate Visitor Center (with valid dates) should be sent to us for account validation. DO NOT SEND THE PERSONAL INFORMATION SECTION. FOLD IT OVER OR COVER IT UP. Include your iSportsman USERNAME in the title of the email.
usarmy.knox.id-training.mbx.dpw-hunt-control@army.mil
OFFICE HOURS:
Closed Tuesdays and Wednesdays
Open Thursday thru Monday 1:30 pm to 9:30 pm
Please email us at the above email if you need assistance.
For Firearms Registration Information, Gate Access Information, and Visitor's Center
call 502-624-7011 or 7019
Interactive Customer Evaluation (ICE)
Click here to purchase Kentucky Department of Fish and Wildlife Resources Hunting and Fishing Licenses, Permits, Merchandise, and Elk Lottery Permits.