EXCELLENT OPPORTUNITY TO HARVEST A QUALITY DEER!!!!
FORT KNOX STILL HAS 1 WEEKEND OF GUN DEER HUNTING (7-8 DEC) REMAINING AS WELL AS LATE SEASON ARCHERY DEER HUNTING (11 Dec-5 Jan). DEER HARVESTED AT FT KNOX ARE ADDITIONAL TO THE STATEWIDE BAG LIMIT. PERMITS ARE AVAILABLE TO ANYONE FOR THESE HUNTING OPPORTUNITIES. ONLY REQUIREMENTS TO BE ABLE TO GET THE REQUIRED PERMITS ARE TO HAVE A FORT KNOX WEAPONS PERMIT (ONLY REQUIRED FOR HUNTING WITH A FIREARM) AND OBTAIN AN INSTALLATION ACCESS PASS. PLEASE READ BELOW TO GET ACCESS INFORMATION.
Cedar trees and cedar greenery may be cut for use only in on- and off-post housing of active-duty military and civilian employees, as well as retirees. Participants must furnish their own cutting tools and transportation. Cutting may continue through 25 December. The Christmas tree cutting area is located on Radio St. from Spearhead Division Ave. to 9th Cavalry Regiment Ave. Maps are available Here
NEW!!!
ARCHERY ANTLERLESS ONLY DEER HUNTING OPPORTUNITY IN ANDERSON, THORN PARK AND WILSON ROAD AREAS. ALL ARCHERY DEER HUNTERS (MUST BE A PERMITTED FT KNOX ARCHERY HUNTER) THAT ARE INTERESTED ARE REQUIRED TO COME TO THE HUNT CONTROL OFFICE AND SIGN A WAIVER AS THE FIRST STEP TO OBTAIN ACCESS TO THESE AREAS. THESE ANTLERLESS DEER ARE ADDITIONAL TO REMAINING FT KNOX BAG LIMIT AND THE PERMIT IS FREE.
Here are the sunrise and checkout times for Deer Hunting
Tier 3 General Gun Deer permits will be available for purchase, these are valid for the 7-8 Dec weekend.
The 2019 Deer and Fall Turkey permits are available for purchase in your accounts. Please be sure to purchase appropriate permits only and review current guidelines prior to going afield.
TIER 3 GENERAL ARCHERY DEER PERMITS ARE AVAILABLE FOR PURCHASE. TIER 3 GENERAL ARCHERY PERMITS ARE VALID
11 DEC-5 JAN 2020
RETRIEVING AN ANIMAL AFTER THE REQUIRED CHECKOUT TIME IS PERMITTED BY FOLLOWING THE BELOW PROCEDURE. THIS WILL ALLOW 2 ADDITIONAL HOURS PAST HUNTING CHECK OUT TIME. ABSOLUTELY NO EXCEPTIONS TO CHECKOUT BY THE INDICATED CHECK OUT TIME FOR ANY ACTIVITY. PLEASE REMEMBER: IT IS ALWAYS BEST TO "BACK OUT IF THERE IS ANY DOUBT" ABOUT SHOT PLACEMENT AND COME BACK THE NEXT DAY TO TRACK AN ANIMAL. THERE IS A MUCH GREATER CHANCE OF RECOVERING A WOUNDED ANIMAL IF YOU FOLLOW THIS RULE.
1. LOG INTO YOUR ISPORTSMAN ACCOUNT AND CLICK "ACQUIRE PERMITS".
2. FIND THE "RETRIEVING BIG GAME AFTER HOURS PERMIT"(FREE). AND CLICK ADD TO CART, SELECT SAVE, THEN CHECK OUT AND CONFIRM.
3. THE PERMIT SHOULD THEN BE VISIBLE IN YOUR LIST OF PERMITS AT THE BOTTOM OF YOUR START PAGE. IT IS VALID FOR 1 DAY AND YOU CAN ONLY ACQUIRE 4 DURING THE SEASON. PLEASE USE THEM ONLY AS ABSOLUTELY REQUIRED.
4. CHECK OUT OF YOUR DEER HUNTING AREA AS NORMAL. IF YOU HAVE "LAID HANDS" ON THE ANIMAL ALREADY, PLEASE REPORT YOUR HARVEST AT THIS TIME AND DO NOT REPORT IT AGAIN WHEN CHECKING OUT FROM RETRIEVING AN ANIMAL. IF YOU HAVE NOT TOUCHED THE ANIMAL AT THIS TIME ONLY REPORT A RECOVERED ANIMAL AT CHECK OUT FROM RETRIEVING AN ANIMAL AFTER CHECK OUT TIME.
5. SELECT CHECKIN/CHECKOUT THEN CHECKIN. YOU WILL NOW BE PERMITTED TO SEE THE "RETRIEVING DEER AFTER CHECKOUT TIME" BUTTON, SELECT IT AND THEN SELECT YOUR AREA FROM THE LIST AND CONFIRM.
NOTE: YOU CAN ONLY CHECK INTO THIS ACTIVITY FROM 44 MINUTES PRIOR TO SUNSET UNTIL 2 HOURS AFTER SUNSET PREVAILING TIME.
5. PAY CLOSE ATTENTION TO THE INDICATED CHECK OUT TIME. YOU MUST ABSOLUTELY BE CHECKED OUT AND PHYSICALLY OUT OF THE AREA BY THAT TIME, NO EXCEPTIONS. REPORT HARVEST IF THE ANIMAL IS RECOVERED AT CHECKOUT AS NORMAL. ENSURE THAT YOU CONFIRM CHECK OUT OR HARVEST AND CHECK OUT WILL NOT BE ACCOMPLISHED.
6. IF FOR SOME REASON THE ANIMAL CANNOT BE RECOVERD BY THE CHECK OUT TIME AND THE AREA IS CLOSED THE FOLLOWING DAY, OR IT IS TUESDAY, PLEASE COME TO THE HUNT CONTROL AFTER 0700 WEEKDAYS (COME TO THE ENTRY DOOR SOUTH OF THE HUNT CONTROL ENTRANCE), 1330 WEEKENDS, TO DETERMINE IF THE AREA CAN BE ACCESSED TO CONTINUE THE EFFORT TO RETRIEVE THE ANIMAL. IT MAY NOT BE POSSIBLE DUE TO MILITARY TRAINING.
​ PROOF OF FIREARMS REGISTRATION RESULTING IN A WEAPON PERMIT SHOWING DATES VALID TO AND FROM MUST BE PROVIDED TO THE HUNT CONTROL OFFICE AND ACCOUNT VALIDATED PRIOR TO PURCHASE OF A PERMIT UTILIZING A FIREARM. PROOF CAN BE EMAILED, OR IN PERSON More information on how to get this done can be found below starting with the yellow text.
All permit purchases are required to be done thru your account using credit or debit card. Cash and Check are no longer accepted. The Hunt Control Office will be glad to assist customers complete the transaction if assistance is needed.
Hunters 18 and older are required to provide proof of Fort Knox firearms registration to the Hunt Control Office prior to being able to purchase a permit that allows use of a firearm. A benefit of this is that the iSportsman system will notify you thru your account 21 Days prior to expiration of the registration so that you have time to renew without causing issues with access for hunting. This can be accomplished in several ways;
1. Take a photo of your valid Weapon Permit showing valid from and to dates and name (top section of the blue-gray page). DO NOT SEND THE PERSONAL INFORMATION SECTION. FOLD IT OVER OR COVER IT UP. Send this in an email with the persons isportsman USERNAME in the title to usarmy.knox.imcom-atlantic.mbx.dpw-hunt-control@mail.mil
2. Scan Weapon Permit and email to the above email address include the persons iSportsman USERNAME in the title. DO NOT SEND THE PERSONAL INFORMATION SECTION. FOLD IT OVER OR COVER IT UP.
3. Bring Weapon Permit to the Hunt Control Office during normal business hours shown at the bottom of this page and we will update your account.
4. If you submit your firearms registration via email following these instructions (click here) you do not need to email your weapon permit to us as we will get copied on your email from DES that your registration is ready for pickup and validate your account.
Once your account is updated with the required firearms validation you will then be able to purchase of firearms hunting permits thru the valid date on the firearms registration. Fishermen and archery hunters do not need a firearms validation.
​Game harvest must be reported in iSportsman when checking out of your Hunting Area. ALSO, you must use the KDFWR's Telecheck System to check-in your Fort Knox deer, turkey and bobcat. Select either Hardin, Meade, or Bullitt County (not a problem if not sure, just select Hardin), then public land, then Fort Knox Military Reservation.
ATTENTION ISPORTSMAN USERS:
IT IS IMPERATIVE THAT ALL PERSONS THAT CHECK IN THRU ISPORTSMAN CHECK OUT OF THEIR AREA BY THE TIME REQUIRED. 15 DAYS SUSPENSION FOR FIRST OFFENSE AND 30 DAYS FOR SECOND WILL BE ENFORCED AND IS NOT APPEALABLE.
​2019 Hunting and Fishing information is available at the "Guidelines" button on the blue bar above.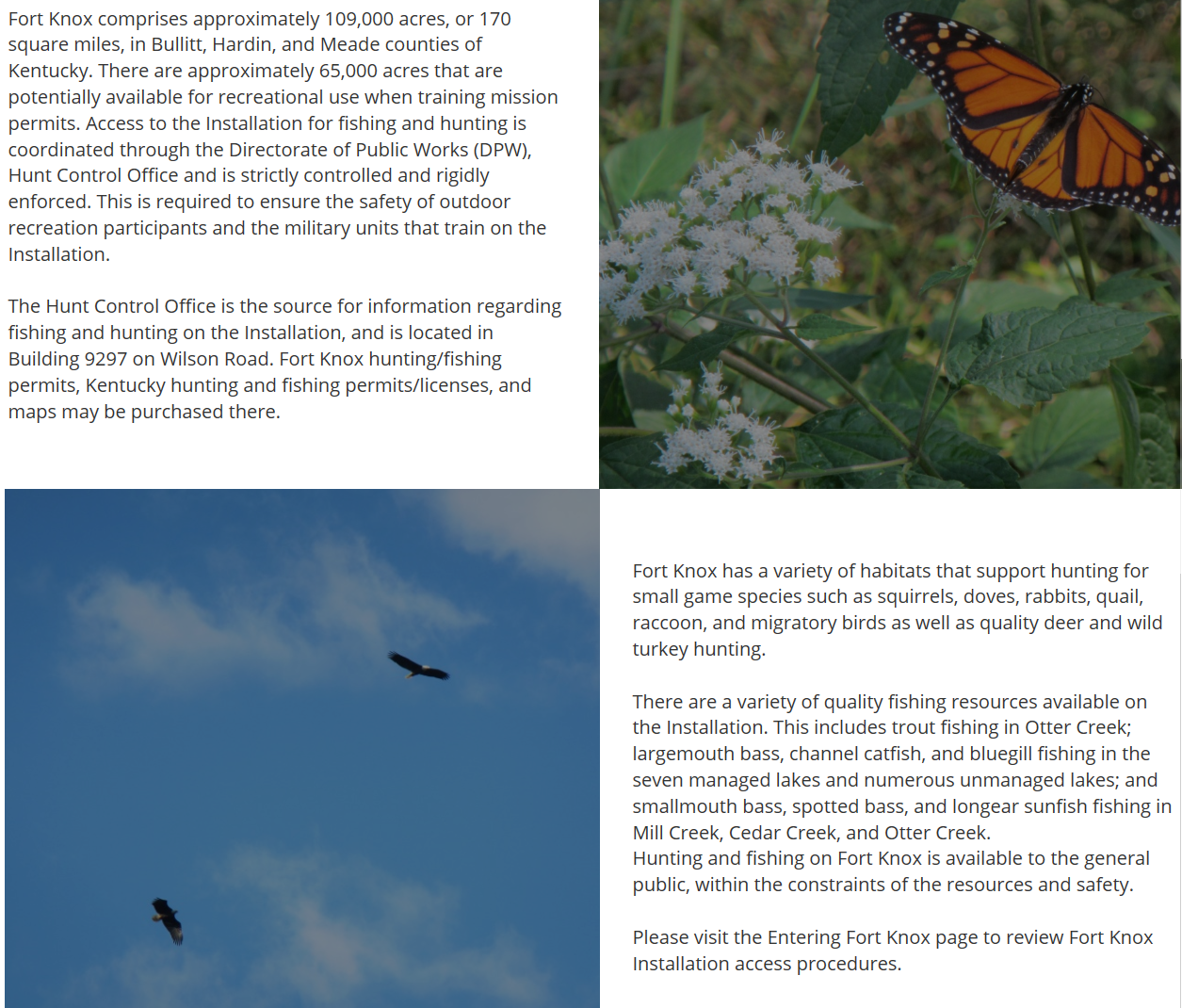 ATTENTION: DO NOT SEND FIREARMS REGISTRATION APPLICATIONS
(FK Form 2759) TO THE BELOW HUNT CONTROL OFFICE EMAIL!
Click here Firearms Registration Information, for the correct application procedures. Only valid Weapons permits received from Provost Marshals Office, Fort Knox, Ky at the Chaffee Gate Visitor Center (with dates valid) should be sent to us for account validation. DO NOT SEND THE PERSONAL INFORMATION SECTION. FOLD IT OVER OR COVER IT UP. Include your iSportsman USERNAME in the title of the email.
usarmy.knox.imcom-atlantic.mbx.dpw-hunt-control@mail.mil
OFFICE HOURS
11:00 AM THRU 7:00PM
Wednesday Thru Monday
**CLOSED TUESDAYS**​
For Firearms Registration Information, Gate Access Information, and Visitor's Center
call 502-624-7011 or 7019
​Interactive Customer Evaluation (ICE)
​Click here to purchase Kentucky Department of Fish and Wildlife Resources Hunting and Fishing Licenses, Permits, Merchandise, and Elk Lottery Permits.